We work with organisations & businesses within the Sports & Leisure industry to design, create & supply bespoke artwork for their premises.

Pamela Scott at Johnston Court Sligo
Johnston Court is a state of the art shopping mall and leisure development, comprising of 110,000sqft of retail space across 2 floors which is ideally located on Sligo's busiest shopping thoroughfare O'Connell Street.The centre opened its doors in 2007 and has been a firm favourite with local and visiting customers ever since. It features over 28 units, with carefully selected tenants that bring a mix of the finest domestic, UK and international brands such as HMV, Elverys, Pamela Scott and many more. This collection of box canvases fit together across there levels of the Pamela Scott store like a giant jig-saw. This custom made feature was designed, manufactured & installed by Spires Art. The large scale photographic imagery is a focal point at the centre of the store's stairwell.
Tyrone GAA Garvaghey Centre
The Garvaghey Centre is a £7m facility and a resource that will both live up to what Tyrone GAA is about and help it further flourish and prosper. Garvaghey is a Tyrone Gaelic resource, facilitating all the Gaelic codes and cultural/heritage activities; for men and women, boys and girls; for Clubs and schools; and for the ordinary, the less ordinary and the extra-ordinary. Prior to opening of the centre in September 2013 Spires Art created & installed a collection of art pieces throughout the facility. The range of artwork in this project includes face mounted prints, box canvases, framed fused glass art piece, wall decals & a sandblasted centrepiece at the heart of the building known as 'An tOchtagán Ghloine' (The Glass Octagon).
Hotel Gym, Spa and Swimming Pool facilities
The modern traveller looks for a hotel with top of the range facilities, which go far beyond the quality of the room. We have had the pleasure of aiding the beautification of many hotel gym, pool and spa areas, such as Hampton by Hilton pictured. We have worked closely with many exercise areas, providing images to inspire motivation and comfort in your surroundings, through the medium of digital wallpaper, translucent glass panels, and anything you require to meet your needs.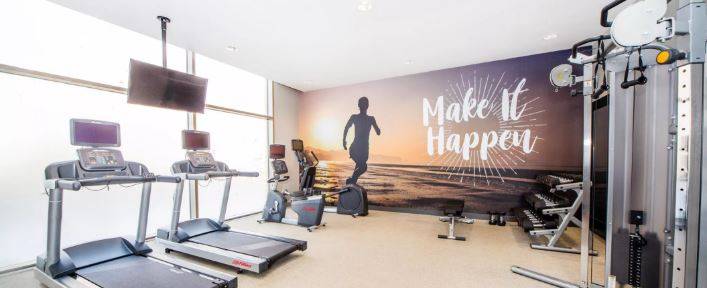 © 2018 Spires Art Group.All rights reserved.