Coordinated to your colour scheme, our bespoke designs, unique to your kitchen or bathroom could be just what you have been looking for! We can design, manufacture and install to any shape or style, including around your sockets and corners for a complete fit. Splashbacks can be coloured to match any paint brand, or can be printed with any design. If you are looking for inspiration please contact us and our dedicated staff will be happy to help.

The Splashback Specialists

Spires Art offers a large range of kitchen splashbacks. With a modern factory with specialist manufacturing equipment all splashbacks can be made to a custom size and shape to meet your requirements exactly.

Glass splashbacks for kitchens and bathrooms

Ready to transform your kitchen with stylish glass splashbacks? Looking to refresh your bathroom style with a functional new feature that will look amazing without breaking the bank?

At Spires Art we sell beautiful, top quality kitchen and Bathroom splashbacks made from toughened glass. We have a wide range of standard sizes or you can choose a made to measure splashback.

Coloured glass splashbacks

Spires Art uses a computerised colour formulating system to match all leading brands of paint including Ral, Dulux, Valspar and Farrow & Ball. We can also create colours to match décor, swatches or even other items in your home. We always apply at least 4 coats of paint to ensure the colour is totally opaque. We have a variety of additional finishes such as Silver, Gold or Rainbow sparkle which can make your coloured glass splashback unique and adds an extra shine and show stopping look.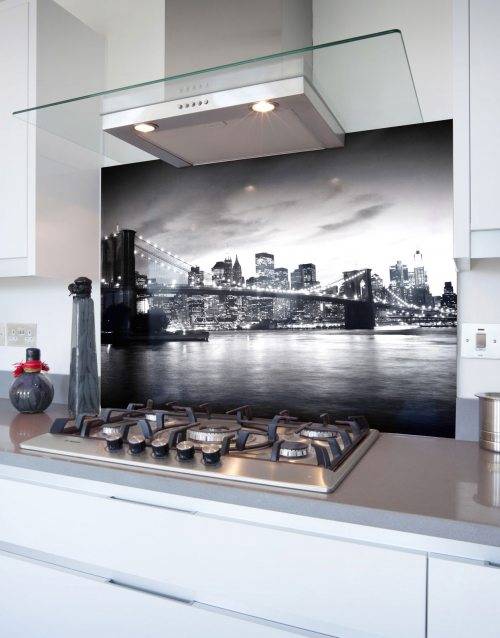 Printed glass splashbacks

Our own large format printer allows us to print any photographic quality image up to 3000mm x 2000mm directly onto the back of glass; we then back spray it to seal the image from damage. Pick from images in our stock library, supply one of your own or choose from thousands online at www.shutterstock.com. Whilst cheaper alternatives include printing onto vinyl or plastic film and then adhering to glass, our technique is not only higher quality but also proves longer lasting and is safe to go behind a hob.

Glass splashback maintenance

There is very little maintenance required with our glass splashbacks. Wiping the glass down with an everyday streak free glass cleaner and paper towels or a lint free cloth is enough to keep your splashbacks looking pristine. Avoid using harsh materials such as steel wool and any solvents. Unlike tiles, glass has no grout lines, therefore minimal germs making glass splashbacks for your kitchen or bathroom a very hygienic solution. As an additional option, we can coat the glass with a Glass Surface Protection System. The water repellent coating makes it difficult for grease and dirt to adhere and allows them to be easily removed without using abrasive agents giving the glass an "Easy Clean" surface.

To find out what Spires Art can do for your business, call us on 02882 246613, email us via admin@spiresart.com or contact us via our Online Contact Form.
© 2018 Spires Art Group.All rights reserved.